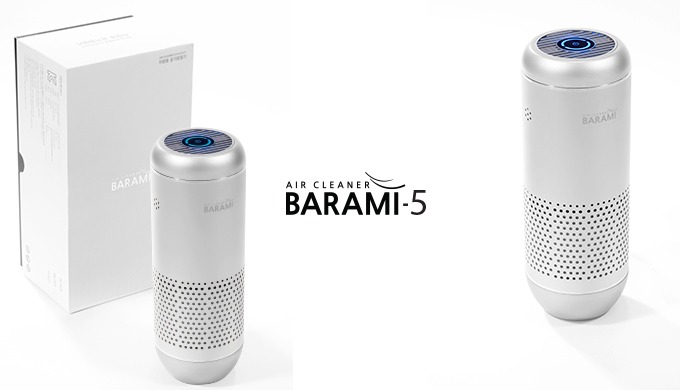 air cleanere BARAMI, intelligent air measurement, 360 blind spotless, airborne particulate matter, air quality measurement sensor, produce strong sterilization, TiO2 and UV-A ultraviolet rays, MERV-18 material, highest air purification efficiency, self-clean intelligent systems, BARAMI-5, vehicle air cleaner for car, Photocatalytic+ Hephafilter
Description of the Product
air cleanere BARAMI, intelligent air measurement, 360 blind spotless, airborne particulate matter, air quality measurement sensor, produce strong sterilization, TiO2 and UV-A ultraviolet rays, MERV-18 material, highest air purification efficiency, self-clean intelligent systems, BARAMI-5, vehicle air cleaner for car, Photocatalytic+ Hephafilter
Barami 5 is a double-care car portable air purifier that uses photocatalytic filters and hepar filters.
It is a portable air purifier that can be used wherever portable power is available, such as in a car, next to bed, office desk, reading room, and tent.
[KOMPASS MALL]
*If you want to buy a product, please click the below link
https://kompassmall.com/heating-ventilation-air-conditioning-hvac-and-refrigeration-equipment/barami-5silver-car-portable-air-purifier/
Price of the Product
Price not indicated
Technical Details
Photocatalytic+ Hephafilter
Ask for a quote
Company catalogues - IDM Corp.