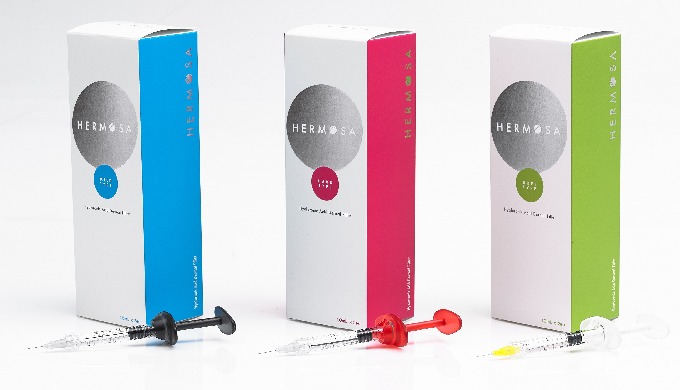 HERMOSA Dermal Filler is a product designed to temporarily improve wrinkles using a soft tissue hyaluronic acid. The hyaluronic acid used in this product is a raw material that has been cross-linked with homogenized particles with optimal viscoelasticity through Novepharma's proprietary technology. This material helps soft infusion by lowering the
Description of the Product
HERMOSA Dermal Filler is a product designed to temporarily improve wrinkles using a soft tissue hyaluronic acid. The hyaluronic acid used in this product is a raw material that has been cross-linked with homogenized particles with optimal viscoelasticity through Novepharma's proprietary technology. This material helps soft infusion by lowering the pressure at the time of injection. In addition, the design of the plunger and handles has been improved to suit the various hand sizes of the practitioner. The product also contains lidocaine, a topical anesthetic, which improves the discomfort caused by the procedure.


Novepharma manages the raw materials through its own quality control and manufacturing system and strictly complies with international quality regulations including KGMP, ISO 13485 and ISO 9001 for quality assurance of the final product. There is low level of endotoxin and no BDDE residue and it is safe for patients to use. The HERMOSA Dermal Filler has been CE certified.
Price of the Product
Price not indicated
Technical Details
1 ml/ea

Packing: 2 ea/pack

CE (April, 19')
Category of the Product
Ask for a quote
Company catalogues - Novepharma Inc.

Brochure_HERMOSA_2019NEW (English)
4 pages

Catalogue 2020 (English)
3 pages