KROMA A/S
Master of fish processing
WE ARE ALL OVER THE WORLD, AND GOOD SERVICE IS THERE TOO.
Contact - KROMA A/S
Rævevej 22
7800 Skive
Denmark
Send a message - KROMA A/S
Legal information - KROMA A/S
| | |
| --- | --- |
| Nature | Head Office - Sales Office - Service Depot |
| Year established | 1975 |
| Describe your Company and attract Business opportunities (NAC08) | Manufacture of machinery for food, beverage and tobacco processing (2893) |
| CVR | 26494893 |
| VAT no | DK26494893 |
| No employees | 20 Employees |
| Kompass ID? | DK037057 |
| Kompass member for | + 7 years |
| Membership | Booster International |
Presentation - KROMA A/S
KROMA specializes in optimizing the work processes of the global fishing industry. Our range covers everything from intelligent cleaning and fish filling machines to as well as equipment for the utilization of residual products and processing of waste.

We are offering several fish processing solutions:
Gutting machines - GUTMASTER 750, GUTMASTER 1200, GUTMASTER 3000, GUTMASTER 8000, GUTMASTER X
Filleting machines
De-scaling
Grading machines
Accessories - Brine injection, Vision Master, Vacmaster, Cleaning solutions, Waste handling, conveyors
Our solutions are suitable for a number of fish species:
Primarily: Trout, Salmon, Mackerel
Secondly: tilapia, sea bream, Seabass, Carp, Plaice
Company catalogues - KROMA A/S
Company's Videos - KROMA A/S
General Information - KROMA A/S
Export area
Asia-Pacific, South America, Central America, North America, West. Europe, Central/East Europe, Middle East
Thailand, France, United States, Italy, Australia, Austria, Greece, Poland, Spain, United Kingdom, Sweden, Turkey, Norway, Netherlands, Russian Federation, South Korea, Malaysia, Jamaica
Ivan Kristensen
CEO - Chief Executive Officer (Direktør)
Ivan Kristensen
Sales Director/Manager (Salg)
Eva Nemcova
Community Manager
Daniel Jørgensen
Technical Director/Manager (Teknik)
Ivan Kristensen
Purchasing Director/Manager (Indkøb)
Ivan Kristensen
Admin/Finance Director/Manager (Økonomi)
Mogens Nørlem
Chairman (Bestyrelsesformand)
Ivan Kristensen
Director (Bestyrelsesmedlem)
Aksel Kloster Sørensen
Director (Bestyrelsesmedlem)
John Sohn Christensen
Director (Bestyrelsesmedlem)
News - KROMA A/S
New product
KROMA - Gutmaster 3000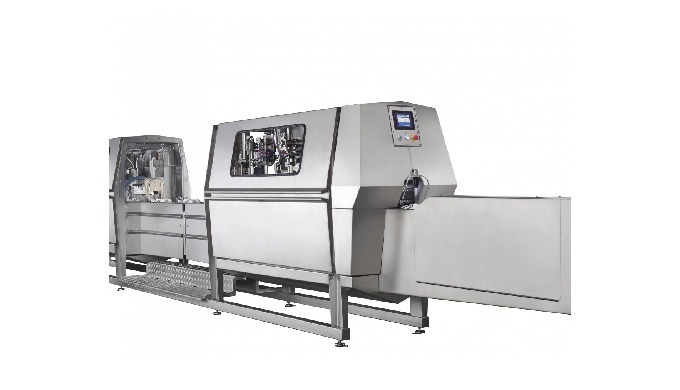 Date: September 10, 2019 10:00 PM
WILD SALMON GUTTING MACHINE IN ALASKA
KROMA sends their GUTMASTER 3000 for Wild Salmon Test in Alaska
The Danish manufacturer of fish-processing equipment decides to send a demo machine to Alaska for Wild Salmon test between 1 and 4 kilos (2 and 9 lbs). The test will hold place at Port Edward, British Columbia in the first weeks of August and KROMA welcomes its audience to participate in this test and see with their eyes how their machine perform.

Opening hours - KROMA A/S
Key figures - KROMA A/S
Operating income
Net profit
Activities - KROMA A/S
Producer
Distributor
Service provider
Main activities within the Kompass classification
Other classifications (for some countries)
NACE Rev.2 (EU 2008) : Manufacture of machinery for food, beverage and tobacco processing (2893)
ISIC 4 (WORLD) : Manufacture of machinery for food, beverage and tobacco processing (2825)
Secondary activities within the Kompass classification