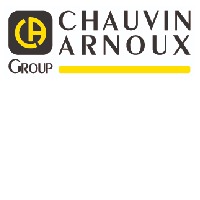 CHAUVIN ARNOUX
Contact - CHAUVIN ARNOUX
190 RUE CHAMPIONNET
75018 PARIS 18
France
Send a message - CHAUVIN ARNOUX
Legal information - CHAUVIN ARNOUX
| | |
| --- | --- |
| Nature | Head Office |
| Year established | 1957 |
| Legal form | SAS, société par actions simplifiée |
| Describe your Company and attract Business opportunities (NAF08) | Manufacture of scientific and technical instruments (2651B) |
| Corporate capital | 13,387,757 EUR |
| SIREN | 572 075 836 |
| SIRET (Siège) | 572 075 836 00013 |
| VAT no | FR21 572075836 |
| No employees (address) | 100-249 Employees |
| No employees | 500-999 Employees |
| Kompass ID? | FR1028616 |
| Kompass member for | + 6 years |
| Membership | Booster |
Presentation - CHAUVIN ARNOUX
CHAUVIN ARNOUX :
For measuring instruments for the installation, monitoring, analysis, and maintenance of the distribution networks of electrical energy in the industry METRIX :
measurement instruments for R&D, education as well as the control and maintenance of cards or equipment incorporating electronic low-level
CHAUVIN ARNOUX ENERGY :
Equipment tables for the electrical installations MV/LV and equipment for industry and large tertiary
CA PYROCONTROLE :
Industrial solutions for all the needs of able, control and calibration temperature for the process industries demanding, such as chemical, nuclear, metallurgy, glass, the semi-conductor industry
CA MANUMESURE :
Repair, testing and calibration, in laboratory and on site, to electronic measurement devices professionals of all brands.
CA INDATECH :
Design of optical sensors for quality control in the laboratory and process online
CA SPECTRALYS :
Expert of the measurement of the quality of agri-food products in real-time by fluorescence and infrared with products for the rapid diagnosis of quality

6 sales Agencies in France : 31 Blagnac, 44 Rèze, 59 Magdalen, 69 Villeurbanne, france, 75 Paris, 35 Chantepie
13 Technical Centres and Service Manumesure France
5 Production Sites in France : 14 Reux Pont-L'evêque ; 14 Vire ; 50 Villedieu les Poëlles ; 74 Annecy ; 69 Meyzieu
News - CHAUVIN ARNOUX
Previous news
New product

Infrared thermometers, the simplicity of remote temperature measurements!

Remote temperature measurement with the brand new infrared thermometers from Chauvin Arnoux
The CA 1860 & CA 1862 no‐contact thermometers from Chauvin Arnoux are simple and accurate. Ergonomic, lightweight, easy‐to‐handle, rugged and watertight (IP 65), they offer a large number of measuring functions, including parameterizable alarm thresholds.

Ergonomics designed for simplified use
The CA 1860 and CA 1862 are pistol‐shaped with a trigger for comfortable handling. Weighing in at less than 300 g, they are also very rugged: they withstand falls from up to 3 m!
For all‐terrain use, they offer IP65 ingress protection. The measurement results are displayed on the backlit LCD screen.
They are delivered in a carrying bag.

Functions and measurements
Dedicated to remote temperature measurement, these new infrared thermometers offer excellent metrological performance.
The laser sight enables you to target a zone precisely. The CA 1862 is equipped with a dual laser sight for even more precise targeting.
With their broad measurement range and numerous functions, the CA 1860 and CA 1862 facilitate users' work.
Measurement is performed simply by pressing the trigger. The trigger can also be locked for continuous measurements. Multiple measurement modes are available, enabling you to obtain instantaneous, averaged and differential values, or simply the Min and Max values.
The high and low alarm thresholds can be parameterized directly by the user and are indicated by the "HI" and "LO" LEDs located just above the display.
The CA 1860 offers fixed emissivity, while the emissivity of the CA 1862 can be adjusted from 0.1 to 1.

Other

C.A 1954, latest 100%-French thermal camera from Chauvin Arnoux

Concentrated advantages! After the success of its C.A 1950 thermal camera, Chauvin Arnoux is commercializing a new camera, the DiaCAm2 C.A 1954, with even more advantages. It retains the ergonomics specially designed for optimum grip with direct access to the functions, even when working one-handed, the start-up in just 3 seconds and the exceptional 9-hour battery life in continuous use. It also offers a host of additional advantages, however. Concentrated intelligence! The C.A 1954 DiaCAm2 is perfectly balanced, whether placed on a table or held in the hand. The display on a wide 2.8-inch screen with automatic brightness adjustment ensures that it can be read comfortably. The field of view is 38° x 28° and the camera is focus-free. The lens is protected by a slide-down cover built into the instrument, so that it cannot be lost and does not get in the way when you work.

Contextual help guides users step-by-step, thus limiting the risk of errors.

Particularly rugged, with IP54 ingress protection, the camera can withstand falls from 2 metres (laboratory tests). Concentrated measurement The C.A 1954 is a communicating camera which simultaneously recovers the measurements from other instruments such as current clamps, multimeters, thermometers, thermo-hygrometers, etc., via Bluetooth.

In this way, users can link the thermograms from the camera to the data from measurements made simultaneously with other measuring instruments. This involves values such as: - the dew point, - the humidity, - the ambient temperature, - the current, etc. The integrated emissivity table can be enhanced as required. It is possible to rename the images and thermograms by site and record voice comments for easier follow-up. The C.A 1954 has a memory capacity of nearly 4,000 images on the 2 GB removable µSD card supplied which can easily be replaced with a 32 GB card.

Concentrated applications

The C.A 1954 is ideal for all applications in the building industry and for electrical and mechanical maintenance: -thermal audits, -fault detection (thermal bridges, seepage, presence of humidity), -electrical maintenance: detection of faulty contacts, unbalance, etc. - mechanical maintenance: detection of wear points, engine overheating, lubrication problems, etc.

In industrial maintenance, linking thermograms and current measurements enables you to find out the load level at the time of measurement, facilitating identification of the fault and assessment of its criticality.

In buildings, the isotherm coupled with the dew point value can be used to detect areas at risk from mould.

It is possible to record and store the configurations for the different applications (building, electrical cabinet, etc.), thus saving extra time.

The CAmReport® software, supplied free of charge, can be used to create automatic reports which can be exported in Word or PDF format. This simplifies printing and archiving.

The C.A 1954 is delivered ready to use in a site-proof casing with all its accessories, including the Bluetooth earpiece. It complies with the environmental protection and part recycling specifications of the Chauvin Arnoux Group's "Eco-Conception" eco-design label.

Other

Chauvin Arnoux has signed an agreement to purchase a majority holding in INDATECH

This means that INDATECH, a company already acknowledged as one of the leaders in spectroscopic measurement in pharmaceutical, biotech and chemical processes, is now the latest subsidiary of the Group. This subsidiary will boost Chauvin Arnoux's existing worldwide reputation for excellence in the measuring equipment sector. The agreement enables the Chauvin Arnoux Group to extend its range of spectroscopic measuring equipment, from the pharmaceutical industry through to the chemical industry and the agri-food sector.This acquisition is based on the conviction that complementary teams and skills in spectroscopy and the industrialization of measuring instruments will enable us to develop innovative products offering ever higher performance. Chauvin Arnoux's worldwide presence will also give INDATECH the capability to extend its support and services to international customers, in the context of Industry 4.0.

Other

New 500 Series of temperature and process controllers

The

STATOP 500 Series PID controllers

form a family of products designed to control the temperature and other physical quantities (pressure, flow rate, etc.) in industrial processes and to manage the positioning of power-operated valves.The 500 Series comprises

3 high-performance models

:

STATOP 548

Format 48x48 (1/16 DIN)
2 displays (measurement/setpoint and alphanumeric message)
Up to 3 logical inputs

STATOP 589

Format 48x96 (1/8 DIN)
3 displays (measurement/setpoint/output power and alphanumeric message)
Up to 5 logical inputs

STATOP 596

Format 96x96 (1/4 DIN)
4 displays (measurement/setpoint/output power and alphanumeric message/program information)
Up to 5 logical inputs

Other

New range of environmental measurement instruments

Chauvin Arnoux

, the French portable instrumentation manufacturer, is launching a

new range of environmental measurement instruments

. Comprising 6 models, this comprehensive range covers all the applications in the field. Compact and ergonomic, they are designed to be simple to learn, with direct access to the functions.

This range also offers an exception battery life of up to 1,000 hrs in portable use and 3 years for recording.


CA 1110 logger luxmeter
CA 1227 logger thermo-anemometer
CA 1246 logger thermo-hygrometer
CA 1821, CA 1822 & CA 1823 logger contact thermometers

Intuitive ergonomics


Portable and equipped with a wide backlit display, all the measurements are accessible on the instrument's front panel simply by pressing: 1 key = 1 function !

Applications

Energy efficiency
Construction
Environmental engineering
Commissioning and maintenance
Regulatory testing
Industrial maintenance and repairs

Other

PYROTRACER Paperless recorder - Constantly keep an eye on your process!

This new range of three paperless recorders benefits from the very latest technological developments: - Faster recording rate, - Improved data security, - Customized configuration - Intuitive operation, - Multiple recording channels, - Access to the data on site and/or remotely. These three recorders, from the standard model to the most powerful, cover every requirement, whatever the budget. Depending on the model, the recording capabilities may extend up to 144 channels with an acquisition interval of 100 ms per channel. - LED touch screen which can be customized for optimum display and easy reading - 3 to 144 recording channels - Secure data - 100 ms acquisition interval per channel - Ethernet as a standard feature - Modbus master, web server - Pulse counting input - Math & Logic functions - Batch management - FDA 21 CFR part11 - Customizable screens - Multilingual with 19 languages

Other

Collect, record and export all your energy data with ELOG DATA LOGGER

COLLECT

Several communication ports for remote data retrieval from the multi-function, multi-manufacturer equipment on an installation

RECORD

Recording of up to 100 variables Configurable recording periodicity (5 s to each variable

CALCULATE

Integrated calculation functions for the variables so that you can view and record data which can be processed directly

EXPORT

Data file export (csv, xml) is fully configurable (choice of variables, file formats, transmission periodicity, FTP servers)

ANALYZE The csv and xml files and the web services offer a wide range of possibilities for integration and analysis of the data including Excel, Word, specialized analysis software, Web pages, ERP, Big Data, TBM, CTM and E.online 3®

http://www.enerdis.com/en/produit/elog-data-logger.html

Other

For the safest possible measurements, choose the C.A 6292

The brand new C.A 6292 200 A digital micro‐ohmmeter from Chauvin Arnoux is supplied in a rugged, IP54 site‐proof casing. It is equipped with the BSG (Both Sides Grounded) mode which helps to remove the risks due to inductive phenomena by earthing both sides of the object tested. In this way, the measurements are performed in total safety for both people and equipment.
It can be used to cover a wide range of applications such as:- Contact resistance tests on MV/HV cells- Verification of contact quality on circuit‐breakers, switches, relays, etc.- Resistance testing on busbars, cables, windings, etc.- Checking of continuity on rails, axles or welds- Testing of surface condition and metallization- Cut‐off device tests
It meets the needs of professionals in electricity distribution, metallurgy and the rail sector, as well as the requirements of electrical equipment manufacturers and maintenance/repair firms.

Other

New range of portable 1 kV megohmmeters

With 6 models (C.A 6522, C.A 6524, C.A 6526,C.A 6532, C.A 6534, C.A 6536), this comprehensive range of insulation and continuity testers covers all your applications in the field.

INDUSTRIAL MAINTENANCE
C.A 6522, C.A 6524 and C.A 6526
ELECTRONICS
C.A 6534
TELECOMMUNICATIONS
C.A 6532
AVIATION
C.A 6536



Other

Thermal camera C.A 1950

100 % French! The brand new thermal camera designed and developed by Chauvin Arnoux, the DiaCAm2 C.A 1950, is particularly simple to use. Its ergonomics has been designed for a comfortable grip, with direct access to the functions using one hand only.

It offers an exceptional battery life of 13 hours without wasting any time, as it starts up in 3 seconds. The display uses a wide 2.8 inch screen with automatic brightness adjustment. The C.A 1950 is focus-free with a 20° x 20 ° field of view. The flap protecting the lens is built into the instrument, so it does not get in the way and cannot be lost. Contextual help guides users to limit the risk of error. Find out more

Other

ASYC IV, the 1st multimeters with graphical colour screens

Simultaneously portable and benchtop multimeters, the ASYC IV models from Metrix®

are simple to use and intuitive. Their design is innovative and the instruments are compact, rugged and leakproof (IP 67) to facilitate measurement whatever the environment.

4 LCD or graphical multimeter models

are offered for each application. They can accurately measure voltage (up to 1,000 V), current (up to 20 A), resistance (up to 50 MOhms), frequency (up to 5 MHz), temperature (-200 °C to +1,200 °C).

A large graphical colour screen

with a black background makes it particularly easy to read up to 10 sequences of recorded measurement curves or numerical values.

USB communication

is provided for data transfer onto a PC, recording and programming with the LV/LW drivers.

See the video

Other

C.A 1510, indoor air quality tester

Simple and user-friendly, the C.A 1510 can be used to measure and record three parameters (CO2, temperature, humidity) and can monitor air quality criteria based either on the level of

The C.A 1510 complies with the functional and metrological requirements for CO2 measurement stipulated by French decree no. 2012-14 in the context of indoor air quality monitoring for buildings open to the public. The

compact, stand-alone C.A 1510

is equipped with a memory capable of storing more than one million measurements in the form of several campaigns and the display and keyboard can be locked during recording.

The C.A 1510 is equipped with USB and Bluetooth communication interfaces. The interface tools (AQR software delivered as standard or 1510 application available from Play Store) can be used to configure the recordings,

display the results remotely on a PC or Android™ tablet, view the data as graphs or value tables, export data into Excel and calculate the confinement index with selection of the periods when people are present.

Other

DOX, an extra-compact multi-function diagnostic tool

Ergonomics
The compact, easy-to-use oscilloscopes in the DOX 2000 Series are equipped with a wide display offering 18 div. horizontally in full-screen mode. This allows users to customize the display: choice between normal or persistent display, YT or XY format, adjustment of the colours, graticule, brightness, contrast, etc. Access to the commands is provided by rotary buttons and backlit keys on the front panel. With their handle, the DOX oscilloscopes are easy to transport and their non-slip feet make them particularly stable. Energy-saving: start-up and shutdown take less than 10 s. The "soft keys" (icons) on the right-hand side of the screen are intuitive and offer direct access to the type of signal that you wish to view. The menus are available in 5 languages. Communicating: the DOX2000 oscilloscopes are equipped with a USB port to communicate with PCs or printers. The associated EASYSCOPE software can be used to control and test the oscilloscope and to recover trace and screenshot files.

High performance and multiple functions for acquisition and analysis
The DOX2000 oscilloscopes offer a maximum sampling rate of up to 1 GS/s in one-shot mode and up to 50 GS/s in ETS mode. There are 3 levels of acquisition for acquisition and analysis, in real time or equivalent time. Depending on the model, the acquisition memory depth extends from 32 kpoints to 2 Mpoints to optimize your analyses. The vertical sensitivity is 2 mV/div. to 10 V/div. in 12 ranges and the horizontal sensitivity is 2.5 ns to 50 s/div. Advanced functions are available: simple MATH functions (+/-/x/÷) and "real-time" FFT function with simultaneous display of the traces. Everything has been designed to allow very detailed analysis of the signals: selection of programmable digital filters, slow signal recorder in ROLL mode on 6 Mpoints over a period of 100 ms. There is an integrated "pass/fail" mask so that users can quickly identify any problems on a signal. It can be used to assess whether the input signal matches a template (defined by the user or not), thus giving an instantaneous view of the measurement.
More news
Company catalogues - CHAUVIN ARNOUX
Company's Videos - CHAUVIN ARNOUX
General Information - CHAUVIN ARNOUX
Export area
Asia-Pacific, North America, West. Europe, Central/East Europe, Africa, Middle East
Brands - CHAUVIN ARNOUX
Previous brands
CHAUVIN ARNOUX / METRIX (Producer)

Des instruments de mesure pour l'installation, le contrôle, l'analyse et la maintenance des réseaux de distribution d'énergie électrique dans l'industrie

Des instruments de mesure pour la R&D, l'enseignement ainsi que le contrôle et la maintenance de cartes ou équipements intégrant de l'électronique bas niveau

CHAUVIN ARNOUX ENERGY (Producer)

Equipements de tableaux pour les installations électriques MT/BT et les équipements pour l'industrie et le gros tertiaire

PYROCONTROLE (Producer)

Solutions industrielles à tous les besoins de mesure, contrôle et étalonnage en température pour les industries de process exigeantes, telles que la chimie, le nucléaire, la métallurgie, la verrerie, l'industrie des semi-conducteurs

MANUMESURE (Producer)

Réparation, la vérification et l'étalonnage, en laboratoire et sur site, d'appareils de mesure électroniques professionnels de toutes marques

INDATECH (Producer)

Conception de cpateurs optiques pour le contrôle qualité en laboratoire et de process en ligne
More brands
Location - CHAUVIN ARNOUX
Contact people - CHAUVIN ARNOUX
M. Axel ARNOUX
Chairman (Président du conseil de surveillance)
M. Patrick YAICLE
MD/Chief Operating Officer (Directeur général)
M. Jean-Eric Garnier
Manager (Directeur CHAUVIN ARNOUX ENERGY)
M. François Drouin
Manager (Directeur PYROCONTROLE)
M. Pierre Malpertuy
Industrial Director/Manager (Directeur Industriel)
M. Philippe Contant
Export Director/Manager (Directeur Export Test & Mesure)
Mme Marlyne Epaulard
Communications Director/Manager (Directeur de la Communication Groupe)
M. Pascal Bonouvier
Commercial Director/Manager (Directeur Commercial France)
M. Vincent Pelletier
Marketing Director/Manager (Responsable Marketing)
M. Pierre-Michel Nenot
General Services Director/Manager (Responsable des Services Généraux)
Key figures - CHAUVIN ARNOUX
Turnover
Operating income
Net profit
Opening hours - CHAUVIN ARNOUX
Activities - CHAUVIN ARNOUX
Producer
Distributor
Service provider
Main activities within the Kompass classification
Secondary activities within the Kompass classification
Other classifications (for some countries)
NAF Rev.2 (FR 2008) : Manufacture of scientific and technical instruments (2651B)
NACE Rev.2 (EU 2008) : Manufacture of instruments and appliances for measuring, testing and navigation (2651)
ISIC 4 (WORLD) : Manufacture of measuring, testing, navigating and control equipment (2651)