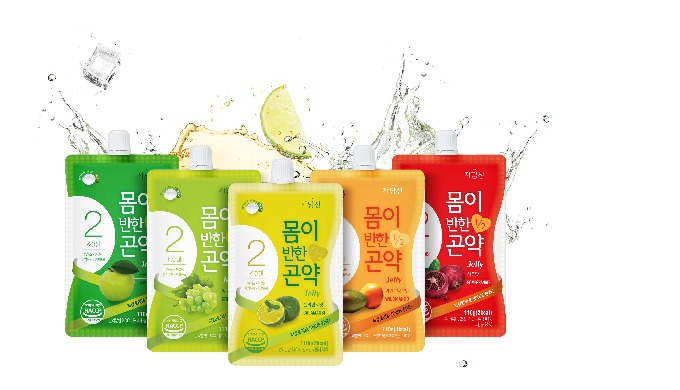 Konjac Jelly: The Hottest Diet, Beauty & Wellness Trend
Ready for the one the rises above the rest?

- Sugar Free
- No Artificial Coloring
- No Artificial Preservatives
- Made in Korea
Chewy Double Jelly Texture is the first in Korea
- Due to Konjac, feel full with just 2 Calories!
- Fun to Chew! No...
Our recommended products and services
Description of the Product
Konjac Jelly: The Hottest Diet, Beauty & Wellness Trend
Ready for the one the rises above the rest?

- Sugar Free
- No Artificial Coloring
- No Artificial Preservatives
- Made in Korea
Chewy Double Jelly Texture is the first in Korea
- Due to Konjac, feel full with just 2 Calories!
- Fun to Chew! No more watery "jelly"
- Years of intensive development of Chewy Double Jelly Texture:
Jelly Within Jelly
- 1st Generation Jellies: Non-jelly form, more water-jelly, fluid-like-
- 2nd Generation Jellies: Jelly-like form, yet only one jelly type
- 3rd Generation Jelly: Only Double Jelly in korea

- Sweet taste with natural Erythritol, no need for any sugar!
- Erythritol, natural sugar alcohol, is derived from natural fermentation
of fruit glucose
- Rich in Dietary Fiber due to Konjac, great for low calorie, fiber dense diet
Price of the Product
Price not indicated
Technical Details
Diet 4SKU : 110mlX10ea 1~2kcal
1) Wilde Mango Flavor
2) Kalamansi Flavor
3) Green grape Flavor
4) Green apple Flavor
Dessert 3SKU : 130mlX10ea 28~29kcal
1) Peach Flavor
3) Green grape Flavor
4) apple Flavor
Category of the Product